Financial Highlight
Performance highlight
Financial Highlight
Performance highlight
Consolidated
In FY2018, we achieved increased sales and profit for the eleventh year. Net sales increased 2.2% year on year, to \1,591,178 million; operating income rose 0.5%, to 127,047 million; ordinary income grew 0.5%, to \132,240 million; and net income attributable to owners of the parent was up 2.4%, to \89,930 million.
We also forcast increase of sales and profit so we aim to update record-high for 12 consecutive FY.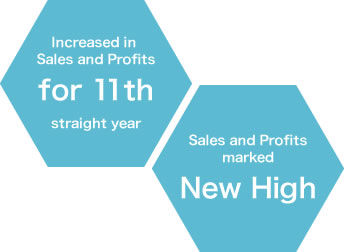 FY19/3
FY20/3(Plan)
 
YoY
 
YoY
Net Sales
\1,591.1bn
+2.2%
\1,640.0bn
+3.1%
Operating Income
\127.0bn
+0.5%
\128.0bn
+0.7%
Ordinary Income
\132.2bn
+0.5%
\133.0bn
+0.6%
Net Income attributable to owners of parent
\89.9bn
+2.4%
\90.0bn
+0.1%
Management Indicators
Our target specified in 7% or higher of operating income margin and 20% or higher of return on equity(ROE).
In FY2018, these target achieved income margin is 8.0%, and return on equity (ROE)is 29.8%.