Strategy
Strategy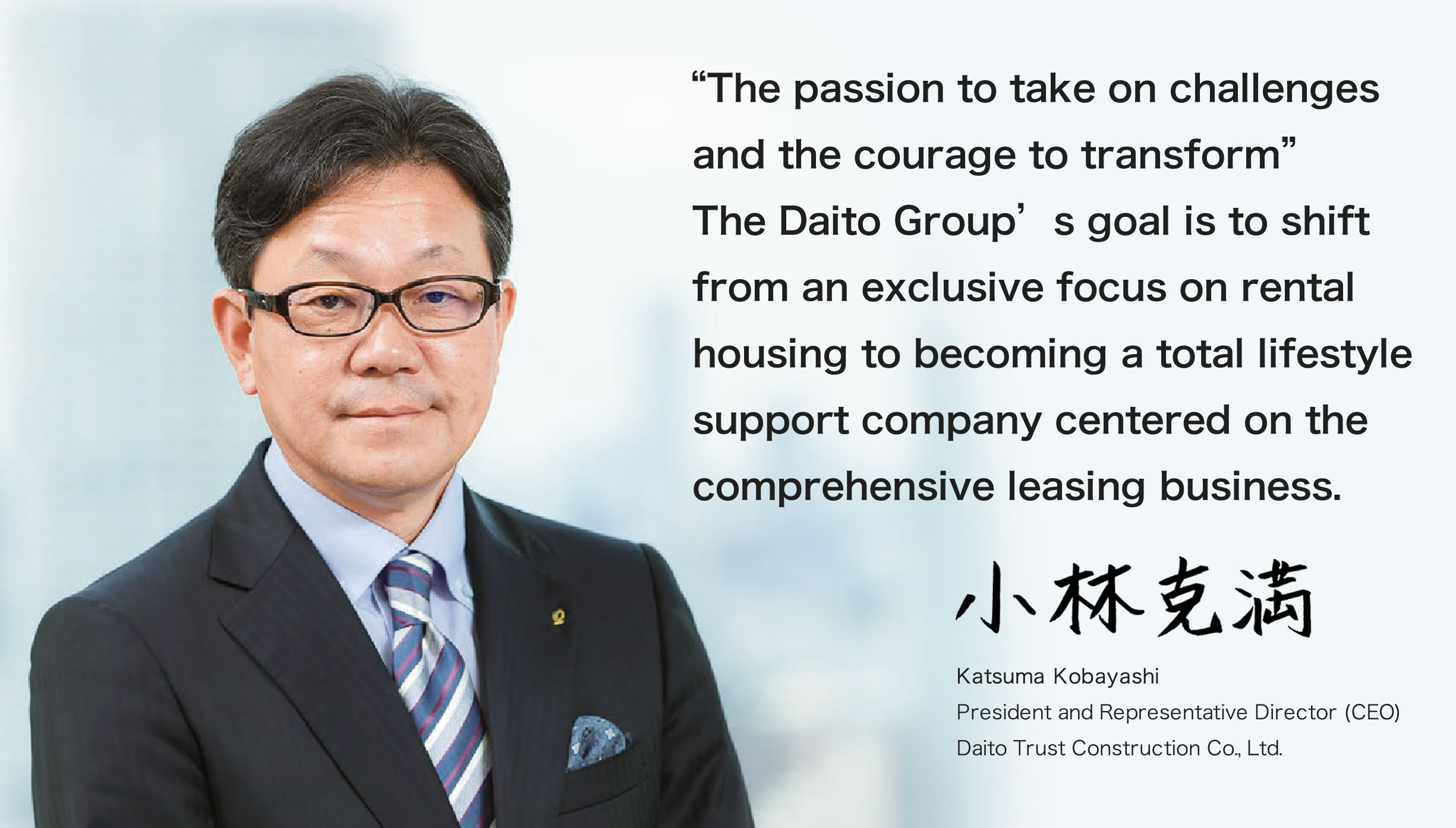 1.Result in FY2018
How would you characterize the Daito Group in the fiscal year ended March 31, 2019?
First, I would like to look back on the economic and business climate facing the Company. Japan's economy saw a moderate economic recovery due to improved personal consumption and rising capital spending, amid ongoing gains in corporate earnings and improving employment. Looking at the global economy, the outlook remains unclear given rising uncertainty over political conditions and economic trends, such as US-China trade friction, weaker growth of China's economy, and a slowdown in Europe.
In the housing industry, housing starts for the period from April 2018 to March 2019 totaled 952,936 units (up 0.7% year on year). However, in the rental housing field, which is the Group's main focus, rental housing construction starts decreased 4.9% year on year, to 390,093 units. Rental housing construction starts declined for the seven consecutive months (from September 2018 to March 2019), and I believe the overall rental housing market is transitioning from a temporary boom to a stable growth period that is more balanced.
Next, I would like to look back on the Group in the fiscal year ended March 31, 2019. We achieved increased sales and profits for the eleventh straight year. Net sales increased 2.2% year on year, to \1,591,178 million; operating income rose 0.5%, to \127,047 million; ordinary income grew 0.5%, to \132,240 million; and net income attributable to owners of the parent was up 2.4%, to \89,930 million. Looking at the results for each business segment, however, presents a different story.
In the Construction segment, net income from completed construction declined 2.8% year on year, to \609,778 million, and operating income decreased 12.3% year on year, to \95,723 million. Looking at the Group's business structure, the Construction segment accounts for approximately 38.3% of net sales and 75.3% of operating income, which makes it the cornerstone of the Group's growth. Given this business structure, I cannot argue with the view that a downturn in sales and profits in the Construction segment is evidence that the Group's growth is slowing. In last year's integrated report, the challenge of "rebuilding the construction segment" discussed by Naomi Kumakiri, former president, is now more important than ever, and it will be carried over to the fiscal year ending March 31, 2020.
In contrast, in the Real Estate segment I feel that we were able to carry out highly effective tenant recruitment: almost every unit is occupied. Proof of this is the high rent-based occupancy rate of 97.4%. In the fiscal year ended March 31, 2019, we started using RevPAR*1 as a new standard for evaluating our businesses. By doing this, we successfully increased average rents while increasing occupancy rates, instead of lowering rents to secure a high occupancy rate. The higher rents contributed to the increase in sales and profits. If we can continue this momentum, I am convinced this approach will foster trust by owners, promoting the sense that we will always try our best to increase rents. So, this was the right choice, even in a local market with falling rents due to building age or changes in the surrounding environment. As a result, we will continue to focus on higher rents, while considering the perspective of tenants.
In the Other businesses segment, the number of properties supplied with LP gas from the Gaspal Group and the number of users of elderly daycare centers operated by Care Partner Co., Ltd. both increased generally according to plan. However, since there are many services in these businesses that have synergies with the construction and real estate businesses, I recognize that the Other businesses segment will not see major growth without an overhaul of the construction business.
*1: An abbreviation for revenue per available room, which is a performance metric that is calculated by multiplying advertised rent by the occupancy rate over the number of days.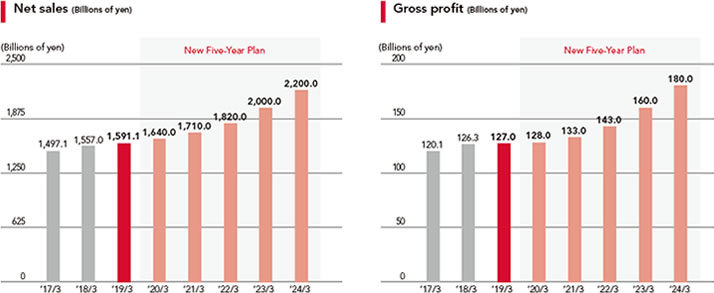 2.Market Environment
What issues do you think are of the greatest concern to shareholders and investors with regard to the market environment facing the Daito Group?
Recently, shareholders, investors and analysts are asking about the stricter lending conditions for apartment loans. The products we offer through the Group's businesses are expensive, which means they are greatly influenced by Japan's monetary policy. I am aware that we must be mindful of this.
Over the years, there have been many times when the lending environment tightened up, such as total lending limits during Japan's economic bubble and reorganization of the Financial Services Agency. The current situation, however, is different: rather than all real estate loans and apartment loans, I feel that lending has been tightened especially for loans for business people just starting out with land purchases. In addition, over the past several years, driven by the booming overall rental housing market and zero interest rate policy, the number of financial institutions offering apartment loans has increased rapidly. I feel that the lending environment is once again rationalizing, resulting in a cooling market and due to the supervising authorities.
There were cancellations as a result of these changes in lending conditions, so there will be some impact on our business operations. I see this challenging situation continuing for some time. However, this does not mean that financial institutions have completely stopped writing apartment loans. When lending conditions change, I believe it will be important to respond based on the new conditions. The Group will continue focusing on sharing information with financial institutions and tightening the grip on customers. After educating customers about our business lines and the stability of our operations, we will address the constantly changing lending environment to help foster safe lending.
3.Our Strengths
Following negative media reports about the subleasing industry, owners, tenants and other stakeholders understandably have concerns. What are the Daito Group's strengths that guarantee peace of mind for customers?
First, for owners, the Group's high occupancy rate is big indicator. As I mentioned earlier, the rent-based occupancy rates for the fiscal year ended March 31, 2019 remained high at 97.4%, up 0.2 percentage point year on year, and we intend to keep it at this level for the foreseeable future. In addition, we can also cite the repeat ratio of construction contract agreements as a strength. Even in this business environment, having 67.5% of annual construction contract agreements originate from existing owners is the strongest evidence of the trust placed in us. However, the number of contracts received from new customers is one indicator for measuring the Group's sustained growth through our sales and marketing activities. Therefore, we will continue focusing on acquiring contracts from new customers.
I would also like to note that, for tenants, we provide building specifications and services not found in other rental housing. For example, inside the buildings, the walls and layout can be arranged to suit a tenant's lifestyle, even though it is a rental unit. From the perspective of services, we offer moving out cleanups with a fixed advance payment. We are able to provide these products and services because of our exclusive focus on the rental housing business. I believe there will be a greater diversity of tenants in the future, including seniors and overseas nationals, so I hope to actively expand the scope of our services.
4.Reason of formulation of New Five-Year plan
What were your thoughts as president in formulating the New Five-Year Plan?
Since I was appointed president and Japan entered a new era at the same time, instead of simply adopting the same figures from previous medium-term management plans and improving on them, we formulated the New Five-Year Plan, Reiwa New Growth, based on the areas I think we should focus on over the next five years.
With population and households in a downward trend over the medium to long term, if we are unable to supply new units at the current rate we could see orders fall and the number of units under management drop, causing our conventional cyclical yet balanced business model to collapse. This would not only adversely affect our growth, but it might also make it difficult to continue operating. Therefore, soon after taking over as president, I thought about how to become a company where stakeholders can entrust their dreams and future and still be a company that can achieve sustainable growth. The financial targets of the New Five-Year Plan did not come first, but rather my passion for realizing sustainable growth was the starting point. After thinking hard about how far we could grow with the rental business alone, I came up with this plan to become a community-based total lifestyle support company centered on the comprehensive leasing business.
5.Aiming to the total lifestyle support company
What process led you to aim to become a total lifestyle support company?
A total lifestyle support company represents the Daito Group's vision and business domains for the future. I believe the New Five-Year Plan presents the path ahead for achieving this vision. This idea did not necessarily emerge separately from our businesses to date. As I explained earlier, the Group's business structure dictates growth based on our core business: rental housing (construction and real estate). Even in the process of becoming a total lifestyle support company, first and most important, it is vital that we strengthen our current core business and ensure that it is being managed soundly.
In addition, we have been strengthening the energy business, the nursing care and nursery school business, and domestic and overseas real estate investments as "new core businesses." Until now, we have been involved in businesses with the view of growing all of them to the same degree and achieving our management objectives without clearly specifying our focus. The market for rental housing is not expected to grow much, so when drawing up our growth strategy, we specified, including new fields, which fields we will commit to, and how best to expand growth in these fields. By following this approach, we were able to draw up the framework of the New Five-Year Plan to ensure steady growth.
When developing a strategy based on this approach, I came to realize that the Daito Group can still make room for growth if we use our assets and know-how in the nonhousing rental fields such as commercial buildings, hotels, and hospitals in addition to rental housing, as well as other domains that we have yet to enter. Going into diversified rental businesses will not only lead to the Group's growth but also the expansion of local services for tenants living there. The number of tenant recruitments came to 323,124 for the fiscal year ended March 31, 2019 and rental housing units under management totaled 1,086,927. By expanding the services and support that we provide, or will provide to tenants, to people in local communities, we believe we will be able to reach our goal of becoming a total lifestyle support company focused on local communities.
6.Employees and the Development of the Next Generation
What are your thoughts about employees and the development of the next generation?
I believe that simply expanding our business alone will make it impossible to become a company where stakeholders can entrust their dreams and future. Under the New Five-Year Plan, we will set and disclose nonfinancial quantitative targets and make promises to stakeholders that position us to reach our targets. Therefore, we cannot become a company entrusted by outside stakeholders if employees do not feel a sense of pride in the Daito Group. In the fiscal year ended March 31, 2019, we enhanced our employee support programs, including making it mandatory for male employees to take childcare leave and introducing a leave program for employees whose spouse has to relocate for work. We will continue to actively promote diversity that goes beyond the employment of women and people with disabilities, along with workstyle reform and work-life balance. Our goal is to become a company where employees are filled with vitality and work energetically.
As well, I recognize that the development of the next generation of senior managers is an ongoing issue for the Daito Group. In addition to their development, I believe we need to establish a mechanism for selecting senior management candidates and building up their experience. The Daito Group employs a workforce of 17,646 (as of March 31, 2019). To identify and develop talent to serve as senior managers in the future, we must adopt a mix of deskwork and field training for all candidates: line managers, branch managers, middle management, and senior management. For example, interviews and discussions with officers are included in training opportunities for senior management to interact with and get to know candidates. Conveying management's thoughts and commitment during these opportunities is also an important part of the development process. In particular, the Daito Group is unique in that we never had factions or "alma mater cliques." This is why identifying nextgeneration senior management candidates from among our staff of more than 17,000 is an important duty of the current management.
In addition, when first selecting officers we need to inform outside directors and outside Audit & Supervisory Board members on the Governance Committee about the candidate's background. Making a decision without enough information could not only lead to the wrong selection but could result in the Governance Committee failing to do its job. Therefore, I hope to create a mechanism for the Governance Committee to screen and judge candidates based on a good understanding of their character. This will involve further increasing interactions between outside directors and officer candidates or having those candidates actively involved in Board meetings, for example.
7.Forecast of FY2019
What initiatives will you implement in your core business in the fiscal year ending March 31, 2020 aimed at achieving the New Five-Year Plan?
The Daito Group's market share for rental housing in Japan is currently around 6%. For example, even if we continue to supply 60,000 new units every year, we would only be able to increase our share by around 0.3% each year, since the number of new rental housing construction starts in Japan is 390,000 units per year. Therefore, it would take us more than 10 years to reach 10% if we continue with our present business model. Looking at this from another angle, the rental housing market is 94% occupied by others, and capturing some of this part will lead to future growth for us.
To increase our market share, starting in April 2019 within our construction sales organization we established the new Planning and Sales Section that will focus on buildings constructed and managed by other companies. Also, the Special Construction Sales Section will focus on proposals for commercial and office buildings. In addition, we initiated trials in the renovation business that specializes in rental housing. Even if this is the first step in achieving the New Five-Year Plan, I have high expectations, knowing that this is an important policy. Moreover, following last fiscal year, another ongoing issue is reinforcing our presence in the Tokyo metropolitan area to expand our core business. We have begun examining business alliances and M&As for building up our planning, design, and execution strengths.
For the real estate business, we will focus on tenant recruitment and management not only for properties managed by us but also on properties constructed and managed by other companies., In this way, we intend to increase profits and our rental market share. Since moving to the three-company structure in May 2017, we have been able to reduce leasing costs each year, and we will continue to cut costs and increase profits by using IT and by streamlining our advertising.
8.Future Aspirations
In closing, please share your future aspirations.
Since it was decided that I would take the reins as president, people from within and outside the Company have noted that I took over during a challenging period, given the rental housing industry and peripheral industries lately, but they also gave me strong words of encouragement. As well, many people told me that the New Five-Year Plan will be difficult to achieve given the unfavorable business climate and social changes. In addition to recent short-term difficulties, there are many social changes that we will need to overcome in the future. However, I recognize that, for the Daito Group, challenging times present an opportunity to change and a chance for growth. I feel extremely fortunate to be appointed president at this time, as Japan ushers in a new historic era.
Protect what needs to be protected and transform what needs to be transformed. Passion to take on challenges and the courage to transform. Having grown rapidly over the last 30 years, I believe the next 30 years will be an exciting time for the Daito Group.