Strategy
Strategy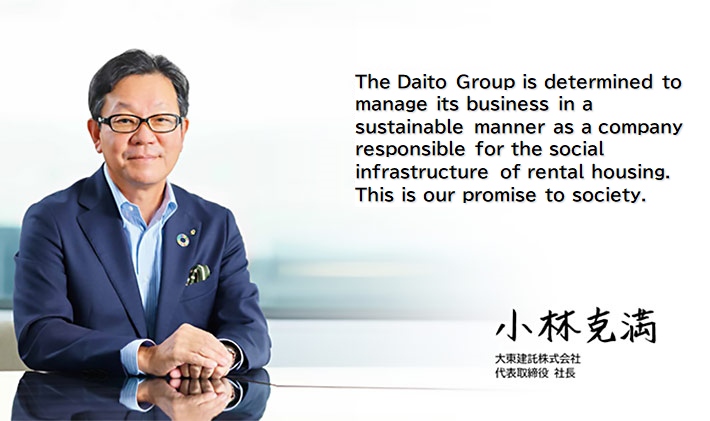 1.My 35-Year Journey of Change Together with the Daito Group
When I joined the Company around 1986, it was a time when we had our sights set on being listed on the stock market, and when landowners were highly motivated to grow and be recognized nationwide by supporting land utilization. After joining the Company, I was assigned to the sales planning section of the head office and oversaw tasks including being the only person on advertising. Since then, I have been fortunate to have the opportunity to take on many new challenges and issues of significance, including during major Company transition periods. Looking back, I think I was very fortunate to be in a position where I could grow together with our Company. Looking back on my 35 years at a Daito Group that started in this way, I am again reminded of how our Group has grown by creating unique value through repeated trial and error in response to changes in the times and society. The Group started as a building leasing business centered on warehouses and factories. However, the market went through a major transition to rental housing in 1992, immediately after the burst of the bubble economy, with the amendment of the Productive Green Land Act. As a result, our business also shifted from commercial buildings and properties to rental housing. At the beginning of this turning point, the Daito Group, still widely known for leasing warehouses, was highly regarded for its system that could guarantee rent during times of vacancy called Daito Kyosaikai, the forerunner of the current Lease Management Trust System. Therefore, both the sales and technical departments thought we would be able to compete well with our competitors if we could combine the competitive advantage of our Daito Kyosaikai with rental housing products of the same level as other companies. However, it proved difficult to beat the products of other companies that had already gained trust in the market despite the strengths of our Daito Kyosaikai system. So, we were faced with a major issue of coming up with products that could beat other companies. After this, there was a boom in imported housing in Japan. Thus, we decided, in line with the intent of our founder, to seize this boom as an opportunity to develop products designed in the style of the imported housing trends. At that time, I was the manager of the Product Development Department. Our technical staff came up with excellent designs in new rental housing proposals with a terraced housing concept that incorporated imported housing styling. The result was the acclaimed low-rise rental housing product using a 2x4 construction method, the New Crestall 24, launched in February 1995. The key features of this style are still used in our products, which are terraced units with entrances along the first floor. The Western-inspired exterior design that sets us apart from our competitors proved so popular it propelled this product to become one of our mainstay products that at times had a waitlist for tenants wanting to move in. This experience taught me an important lesson. I learned firsthand that a key condition for coming out on top in a competitive market is by producing impactful and highly differentiated products. Another event that has left a lasting impression on the Daito Group and me is the launch of the Lease Management Trust System, the foundation of our current core businesses. In 2006, with the revision and enforcement of the Insurance Business Act, we decided that continuing with Daito Kyosaikai, which had played an important role for our Company, would reduce benefits to our landowners. As a result, we chose to switch to the whole-building lease system. At that time, as the General Manager of the Sales Planning Department, I was serving as secretariat of the project to develop the current Lease Management Trust System. At the beginning of my investigations, I thought we could make the system work by using our Group's sales and marketing capabilities—based on our track record of providing rental income guarantees through our Daito Kyosaikai system—even if we had a whole-building lease service of the same standard as forerunners in the wholebuilding lease market. However, our thinking changed, believing we would not be able to beat our competitors this way, much like during our transition from commercial buildings to rental housing. Thus, through the project, I had in-depth discussions with management about how we could best differentiate and develop a system that would most likely beat our competitors who had entered the whole-building lease market ahead of us. The end result led us to our current position of leading the rental housing industry in Japan. We thoroughly differentiated our product and focused on our landowners by covering everything from a very long lease term of 30 years (at the time) to the costs of repairs and maintenance because of both aging buildings and of restoring properties to their original states after tenants leave. My legacy at the Daito Group lies in the privilege of getting to work in creating brand new value by seizing the opportunities presented by changes in the external environment. The senior managers at the time defined and led the Company in the direction of their vision. This experience of seeing and feeling the importance of senior leaders defining a clear direction, I believe, has bolstered my current conviction in strongly valuing our vision.
2.Thoughts on Management
As a corporate manager, I have three key areas of thinking behind how I manage and lead in business. First, I think it is vital that management has a vision and takes the lead in achieving it in order for our Group to continue to grow in these times of significant change in society and our operating environment. As I mentioned earlier, I am grateful for the business environment in which I could grow together with the Company. Now, when I think are we successfully providing this same kind of environment to our employees, I think, with the backdrop of an increasingly difficult operating environment due to the COVID-19 pandemic, our employees have a vague sense of uncertainty about our Company's direction. That is why I want to create an environment where we, both as a Group and individually, can find our way into the future by clearly defining our vision. I am strongly convinced, as a leader of this Company, of the importance of defining and disseminating our vision for the future, not only within our Company, but also outside our Group. Second, I believe a genuine desire to improve the company we work for lies at the heart of our concept of work. In the New Five-Year Plan, our medium-term plan which started in FY2019, the reason behind setting our goal of becoming "a company that can grow sustainably,entrusted with dreams and the future," is a strong desire to improve our Company in ways that our employees can feel proud to work for us and can admit to their families and society. Finally, is my belief in managing in a way that makes progress regardless of the odds in a fair and just manner. I believe these are the ways of thinking that underpin how I manage and run a business. When it comes to my style of management—based on my background in taking on new challenges in an ongoing process of trial and error—I believe I am the type to act while I think and think while I act. This kind of style, of doing two things at once, was considered a bad habit by some in the past, but I think going forward this kind of multitasking will be vital. Meanwhile, my aim is to balance both perseverance, or never giving up when pursuing a challenge, with being able to give up graciously when that is the best option. I believe it is a management style where, rather than acting arbitrarily on my own authority, I think and act while listening to the opinions of those around me, before making the final decision myself.

3.Current State of the New Five-Year Plan
Over the 30 years up to 2019, we grew by expanding our rental housing stock through our Construction business and developing a series of business models nationwide that extended to real estate services such as brokering and managing these properties. We were able to achieve this because a business model where increasing branches and sales personnel directly results in a greater revenue and rental housing stock is possible within a society where the population and household numbers are increasing. What then, if we look at Japanese society in 30 or 50 years from now? Population and household numbers are not expected to increase. Therefore, we must consider growth strategies suited to our potential operating environments that are not limited to what we have done until now; that is, increasing the number of new housing starts. The New Five-Year Plan we launched in FY2019, when I became President, is our answer to this issue. Under the New Five-Year Plan, we will transform the Daito Group from an exclusive focus on rental housing to a total lifestyle support company. To this end, we will expand our Comprehensive Leasing and Lifestyle Support Services businesses concentrically around our core rental housing business, which has been a mainstay of the Group's growth. Our actual results for the Construction business centered on the rental housing business are, however, below those stated in the New Five-Year Plan due to the impact of changes in our operating environment, such as stricter lending and the COVID-19 pandemic. Therefore, we believe our highest priority is to rebuild the Construction business and regain our mainstay core business. The Real Estate business, including the occupancy rate, on the other hand, has been performing very well due to the COVID-19 pandemic. However, the pandemic is not over yet, and, therefore, we will continue to pay close attention to the situation and further bolster the stable strengths of the Real Estate business that have become apparent as a result of the COVID-19 pandemic. The Other businesses segment, besides the hotel business, is performing steadily. In Other businesses, we aim to aggressively advance into new business domains, such as through the integration of INVALANCE Ltd., a provider of condominiums for asset management purposes, into our Group in November 2020. We will continue investigating opportunities to collaborate with companies and services with high potential for synergy. While there is a market trend of declining new housing starts, the Group's rental housing stock is increasing. Therefore, I think we should pay particular attention to businesses that utilize our housing stock. In these circumstances, the renovation business is an area we are focusing on in the New Five-Year Plan. The renovation business, which can utilize our Group resources, can not only expand our Group business domains, but can also lead to strengthening our core business by acquiring stock based on opportunities presented by renovating, such as taking on the management of properties owned by other companies, and opportunities for resale from rebuilding and renovation. In the Real Estate business, in October 2020, we started developing a business platform aimed at providing services related to rental housing and living. As a first step, we plan to start providing services to the more than 2 million tenants of our managed buildings, in Autumn 2021. Although we still face the issue of recovering the business performance of our core businesses, especially the Construction business, we are steadily progressing our efforts toward our goal of becoming a total lifestyle support company.
4.New Five-Year Plan and My Mission
The Lease Management Trust System is a comprehensive package for supporting landowners with lease management. This system ranges from construction and planning of rental housing management by Daito Trust Construction, Co., Ltd.; recruitment of tenants by Daito Kentaku Leasing Co., Ltd.; and property management, operation, and whole-building leasing by Daito Kentaku Partners Co., Ltd. In other words, the growth of the Daito Group is a business model that naturally leads to the growth of subsidiaries such as Daito Kentaku Leasing and Daito Kentaku Partners. However, in a situation such as this, where Daito Trust Construction is the only engine of the business, if the engine stagnates such as in the current COVID-19 pandemic, the growth rate of the entire Group will also suddenly slow down. While this system has until now been a source of the Group's competitive advantage, in the future, we will need each subsidiary to find and operate an engine that can grow independently. As an example, Daito Kentaku Partners being entrusted with the management of buildings constructed by other companies and independently expanding their portfolio builds their own unique growth engine. This can also be expected to create a virtuous cycle within the Group—with the introduction of rebuilding and renovation work to Daito Trust Construction. This will enable each Group company to have its own growth engine, and if the various Group companies can create a synergistic ecosystem, this can also be expected to fuel sustainable growth. I believe one goal of the New Five-Year Plan is to develop growth engines in each Group company and to create this kind of self-sustaining ecosystem. If we can fully share the ways of thinking and mechanisms related to this ecosystem, we will be able to continue to create new engines in the future and to strengthen the ecosystem. The first and most important role I should play in achieving the ecosystem is developing the necessary organizations, talent, and systems. In 2019, the first year of the New Five-Year Plan, we began building a culture and programs to create new engines both inside and outside the Company. One such program is the internal venture system, "Mirai-novator." Employees who want to take on challenges that utilize their specialist fields or that utilize Group management resources can apply to become Mirai-novators, or "innovators of the future." We heard from quite a few applicants who have said things like, "I can't see what kind of position I'll end up in by just continuing to work as I am" and "I feel the limits of my career in my current abilities." I certainly want to achieve the development of an ecosystem and growth engines to establish an environment and give our employees similar opportunities to the ones I had as an employee within a growing company, where they can actively take on challenges and feel they are growing along with the Company.

5.Responsibility and Mission of the Daito Group
As of the end of March 2021, the Group manages 1.16 million rental housing units under 88,000 landowners, with an estimated 2.08 million tenants. Just in terms of scale, you can see we have enough tenants spread throughout Japan to fill a city of significant size. If we can make the most of this as one network, I believe we can contribute to solving social issues on an administrative scale through our business activities. At the same time, we also recognize we have an enormous social responsibility based on the scale and size of this network. Taking on the challenge of solving social issues through our business activities and management resources is the key to unlocking the potential of this network and the future growth of our Group. Therefore, it is vital that both as a Group and as individual employees, we must take social issues onboard as if they are our own. In terms of the urgent and global issue of climate change, we have, for example, been caring for our environment proactively by reducing our environmental impact in our construction sites and by developing environmentally friendly rental housing, starting with net zero energy house (ZEH) rental properties. Even so, in recent years, whenever a climate change-induced disaster occurs, such as severe storms that are occurring every year and are impacting both our landowners and tenants, we are deploying all our employees, who are affiliated with the affected sales area, to help in recovery and rehabilitation activities. In other words, our business, our employees, and our stakeholders are already being impacted by climate change. This is why we must find ways of solving and contributing to issues facing society by taking ownership of the issues across our entire Group. I believe this is truly how our Group can create greater social and economic value going forward.
6.Sustainability of the Daito Group
Sustainability has become a concept that has grown in familiarity and many people are showing an interest in it. Looking back on my own purchasing behavior, I feel as if my criteria for choosing a product has expanded from price, performance, and design, to include whether or not it is environmentally friendly. Looking at social trends as well, I feel we are now in a time where companies and products that are environmentally and socially friendly are being chosen and evaluated. That is why there is a growing sense of urgency that if we do not sufficiently act on our sustainability responsibilities, we will not survive, regardless of our competition within the market. I believe our main product, rental housing, plays a more significant role as social infrastructure for the public good than private houses, from the perspective of a range of people being able to easily choose and shift rental houses depending on their family makeup or lifestyle needs at the time. Furthermore, as our business creates new housing and impacts people's lives on land owned by our property owners, our business would not function without the cooperation and understanding of local communities and stakeholders. It is with this kind of background that we have now included concepts such as corporate social responsibility (CSR) and creating shared value (CSV) into our corporate management. Going forward, we aim to become a company chosen from the perspective of sustainability by proactively taking on our commitment to the Sustainable Development Goals (SDGs) and our environmental, social and governance (ESG) activities. When developing rental housing products, for example, we focus on three key concepts: the environment, disaster prevention, and lifestyles. Caring for our environment is a natural responsibility for our Group that supplies more than 50,000 homes a year (average for the last five years). Regarding disaster prevention, we believe management from a sustainability perspective is an opportunity to provide new value. For example, in this time of 100-year life expectancies, we propose a new lifestyle that rental housing can only provide in order to fulfill our responsibility to protecting landowners' assets and tenants' lives. I think you, as a reader, will be able to better understand our purpose and intentions if you keep these concepts in mind when reading the materiality (material issues) announced in this integrated report. Our materiality announced here has been identified mainly by leaders who will lead the Daito Group into the future, which include all executive officers, and managers of the corporate planning and business strategy departments of the three main Group companies. While we will start undertaking measures toward our material issues soon, the current materiality is by no means a finished product. Our challenge will be to make our materiality into a living concept that we will continue revising and nurturing. We must also advance materiality initiatives as a means of accelerating progress on the New Five-Year Plan. We believe our ideal form of sustainability management is to consolidate both perspectives of our management strategy and materiality into informing the ideal direction and path of action for our Group.
7.Our Promise to Society
As I mentioned at the beginning, our Group has grown by creating unique value in line with the changing times and society. And now, in these times of great change, we are declaring our resolve to transform the Daito Group from an exclusive focus on rental housing to a total lifestyle support company. Therefore, our Group must grow into a company that can contribute to society more broadly, founded on our management resources including good relationships with all our stakeholders such as landowners, tenants, and business partners. Now, the promise to society I want to achieve is to become a company that can grow sustainably, entrusted by our stakeholders with their dreams and the future, and that we will aim to solve social issues through our business. We will continue taking on various initiatives to achieve this promise without being defeated by the COVID-19 pandemic. We hope you will keep looking forward to the new value we will create as a Group.