CEO Message
CEO Message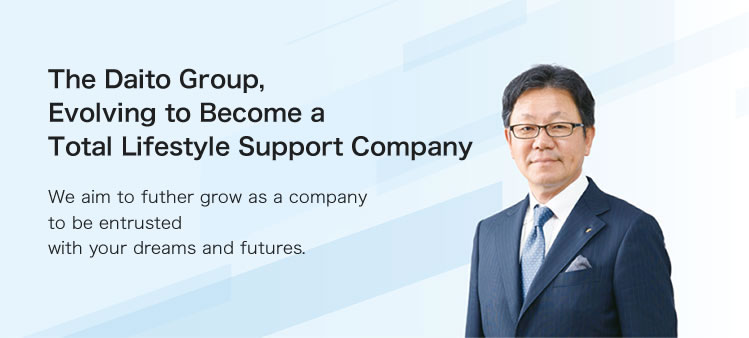 Thank you for your continued support of the Daito Group. My name is Katsuma Kobayashi. In April 2019, I became president and representative director (CEO) of the Daito Trust Construction Co., Ltd.
In March 1989, Daito Trust Construction became a public company with its listing on the Second Section of the Nagoya Stock Exchange. We have since experienced many difficulties, such as the collapse of Japan' s asset bubble and the global financial crisis of 2008. Today we have grown into a company with net sales of over 1,500 billion yen. I joined Daito Trust Construction in February 1986, and have seen myself grow together with the Company throughout the Heisei Era, which lasted 30 years from 1989.
Looking ahead to the next 30 years and our next challenge for the Group's continued growth, I believe that my mission in this new role is to ensure that our stakeholders can entrust the Group with their dreams and futures and that the Group continues to grow.
It is important to reinforce our core business: construction and real estate. This effort alone, however, will not be enough to continue growing as a company, given the current trend toward a long-term decline in population and the number of households in Japan. We will also drive further growth in our new core businesses6 including nursing and childcare, energy, and domestic and overseas real estate investment6 the foundations for which were built by my predecessor, Naomi Kumakiri. At the same time, we will be proactive in taking on new fields in which we can leverage the Group' s expertise. Our goal is to go beyond construction and real estate, shifting from our exclusive focus on rental housing to become a total lifestyle support company centered around comprehensive leasing services. Furthermore, we will promote work style reforms that deliver real results, such as revising our healthy company policies and employee evaluation systems, in order to make our employees feel proud of working at the Daito Group.
This year marks a new era in Japan, as we move from Heisei to Reiwa. While business conditions surrounding the Group are tough, we would like to make this first year of the Reiwa Era the start of a new 30-year period of growth and hope that our stakeholders will sense a new level of energy from the Daito Group. We look forward to your continued support.

Katsuma Kobayashi
President and Representative Director (CEO)
Daito Trust Construction Co., Ltd.