For Shareholders and Investers
For Shareholders and Investers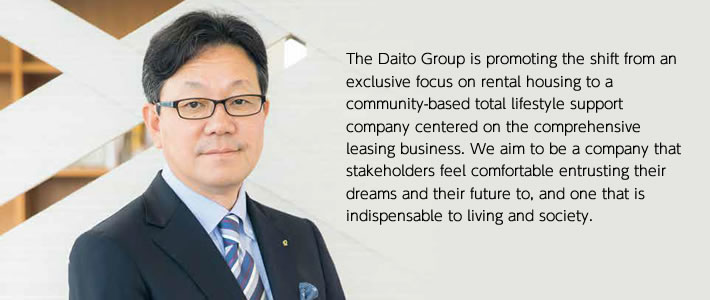 Shifting from an exclusive focus on rental housing to the comprehensive leasing business and to a "total lifestyle support company" that provides peace of mind and trust to customers
My name is Katsuma Kobayashi and I was appointed President and Representative Director (CEO) of Daito Trust Construction Co., Ltd. on April 1, 2019.
Daito Trust became a public company and was listed on the Second Section of the Nagoya Stock Exchange in March 1989. We have overcome numerous difficulties since then, such as the collapse of Japan's economic bubble and the global financial crisis of 2008. Today we have grown into a company with net sales of over \1,500 billion. I joined Daito Trust in February 1986, and have grown together with the Company throughout the Heisei era, which lasted 30 years from 1989.
This year, as we mark a new era in Japan changing from Heisei to Reiwa, I believe that my mission in this new role is to ensure that our employees and all other stakeholders feel comfortable entrusting us with their dreams and their futures and that I lead the way to ongoing growth as a total lifestyle support company that is indispensable to living and society by expanding our business arena from an exclusive focus on rental housing to the comprehensive leasing business. To this end, we have developed the Reiwa New Growth Plan, a New Five-Year Plan which expresses our direction for the next five years and that goes beyond simply resetting targets while maintaining continuity with previous medium-term management plans.
Why are we implementing the New Five-Year Plan now and why are we aiming to be a total lifestyle support company that has shifted from an exclusive focus on rental housing to the comprehensive leasing business?
almost solely on rental housing (construction and real estate), the Group's core businesses. However, the Group has many strengths that can be used in areas other than rental housing, such as our strengths with construction proposals, design and construction, and rental management suited to the surrounding environment. These strengths will be put to use in such areas as the planning and construction of commercial and business properties, which I believe will help us expand our business arena. In addition, the number of rental housing units under management in the Daito Group stands at 1,086,927 (as of March 31, 2019). I am confident we can further extend the business domain of the Group if we can provide the same kind of total lifestyle support services to society as we currently do in the form of added value to the two million or so tenants in these rental housing units, and if we can provide new services to our tenants and the local community.
We have the know-how and the assets required to expand the scope of our business. Making full use of these factors will inevitably lead to continued growth going forward. The New Five-Year Plan was formulated with the aim of becoming a total lifestyle support company focused on the comprehensive leasing business founded on our belief that the Group has the potential to use our accumulated resources on an even larger scale.
While business conditions surrounding the Group are tough, we would like to make this first year of the Reiwa era the start of a new 30-year period of growth for the Daito Group. We aim to grow into a company that is indispensable to people and society by actively challenging new domains and new businesses.
We look forward to the continued support of our shareholders and investors.
July 2019

Katsuma Kobayashi
President and Representative Director (CEO),
Daito Trust Construction Co., Ltd.