Daito Trust Green Bond
Daito Trust Green Bond
Daito Trust Construction Co., Ltd. would like to announce that the Company has decided to issue its first "Green Bonds " as a means for .financing to be allocated to business with an environmental improvementeffect.
Purpose and Background of the Issuance of Bonds
Green Bonds is bond for which the use of the funding has an environmental improvement effect (environmentally friendly, green).
The Daito Trust Group is engaged in environmental management aimed at the realization of a carbon-free society as its social responsibility based upon its corporate philosophy and our promise, and actively participates in and supports international initiatives for introducing global standards into environmental management.
In January 2019, the Company joined "RE100"(*1) and committed to contributing to the promotion of the spread of renewable energy by using renewable energy for 100% of electricity consumed in business activities by 2040 and expanding the use of solar power generation in rental housing. In addition, in April 2019, the Company announced its support for the proposals of the Task Force on Climate-Related Financial Disclosures (TCFD) established by the Financial Stability Bord (FSB). Furthermore, the Company joined "EP100" (*2) in August 2020 and has set a target of doubling energy efficiency (net sales/energy consumption) compared to FY2107 by 2030.
As a framework aimed at the achievement of the above targets, the Company established the "Daito Trust Green Bond Framework" and will obtain funding through the Bonds based on this framework. The funding will be allocated to new finance for the new installation of solar power generation facilities for selling surplus electricity. In future, the entire Group will promote environmental management to propose good housing environments in harmony with the local community and nature based on the approach that "the global environment is the housing environment" and also pass on the important management resource of the global environment to the next generation.
*1 An international initiative aimed at using renewable energy for procurement of 100% of ekectrucity used in ancompany's own business
*2 An international corporate initiative with participation by companies that have set the target of doubling the energy efficiency of business (improving energy saving efficiency by 50%, etc.)
Overview of the Bonds
Issuance amount
11 billion yen
Term
10 years
Planned issuance date
December 2, 2021
Lead securities firms
Nomura Securities Co., Ltd.
Mitsubishi UFJ Morgan Stanley Securities Co., Ltd.
SMBC Nikko Securities Inc.
Third-party assessment
(external assessment)
The Daito Trust Green Bond Framework has undergone third-party assessment by Rating and Investment Information, Inc. (R&I) stating that it complies with the Green Bond Principles 2021 (*3) stipulated by the International Capital Market Association and the Green Bond Guidelines 2020 (*4) stipulated by the Ministry of the Environment. (*5)
Structuring agent (*6)
Nomura Securities Co., Ltd.
Intended use of funds
Funding of capital investment for new installation of solar power generation facilities for selling surplus electricity.
*3 Established in January 2014 to ensure transparency of green bonds, promote disclosure and reporting and encourage market order
*4 Guidelines established since March 2017 for the purpose of promoting Green Bonds in Japan by ensuring creditability in the environmental effects of Green Bonds and reducing the issuer's costs and clerical load
*5 R&I Green Bond Assessment/Second opinion
https://www.r-i.co.jp/en/news_release_gf/2021/11/news_release_gf_20211126_eng_02.pdf
*6 A party that provides funding support through advice, etc. on establishment of the green bond framework and acquisition of external third-party assessments such as a second-party opinion

About the Daito Trust Green Bond Framework
The Daito Trust Green Bond Framework was established by stating the four components specified in the Green Bond Principles mentioned in the International Capital Market Association (ICMA) green bond guidelines (1. Use of Proceeds, 2. Process for Project Evaluation and Selection, 3. Management of Proceeds, 4. Reporting).

The funds obtained based on the Daito Trust Green Bond Framework will mainly be allocated to the following project. When obtaining third-party assessment, the Company received notification from the Green Finance Organization of a grant decision for being subject to the grant of a subsidy for the Ministry of the Environment's 2021 Financial Support Program for Green Bond Issuance.
About the project
Project coverd
New installation of solar power generation facilities for selling surplus electricity
Project overview
New installation of solar panels owned by the Company on the roofs of 10,000 rental housing buildings managed by the Company nationwide
Overview and expected effect
Part of the electricity generated will be used in common areas, branch offices, vacant untils and construction work, and the surplus will be used in applications such as being sold to power companies to reduce CO2 emissions through the utilization of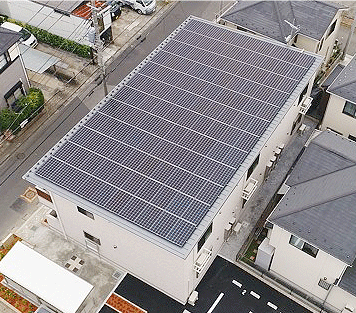 Third-party assessment of eligibility
Green bond assessment/Second opinion
Rating & Investment Information, Inc. provided second party opinion for the Daito Group Green Bond Framework and confirmed alignment with Green Bond Principle 2021 of International Capital Market Association (ICMA) as well as Green Bond Guideline 2020 of Ministry of Environment.

  
Details of Daito Trust Green Bond Assessment/Second opinion is here

  
Third-Party Annual Review
An individual third party will provide post-issuance review until amount equal to the net proceeds is fully allocated to the eligible projects specified on the Daito Group Bond Framework or if there is any major updated on allocation situation.


Investment Announcements for Daito Trust Green Bond
List of investors that have announced participation is as follows :
(As of November 26, 2021. Japanese alphabetic order)
Aichi Shinkin Bank

Tokio Marine Asset Managemant Co., Ltd

Abukuma Shinkin Bank.

Tokyo City Shinkin bank

ALPS CHUOH SHINKIN BANK

NAGANO SHINKIN BANK

The Osaka Shinkin Bank

GAKKOHOJIN NAKAMURASANGYOGAKUEN

OSAKA POLICE CREDIT UNION

Nishihyogo Shinkin Bank

Kibi Shinkin Bank

Nissay Asset Management Corporation

THE GIFU SHINKIN BANK

The Banshu Shinkin Bank

KIRYU SHINKIN BANK

Hanno Shinkin Bank

The Kuwanamie Shinkin Bank

The Prudential Life Insurance Company, Ltd.

SaitamaDoctor Bank

BIZENHINASE SHINKINBANK

THE SHINONOME SHINKIN BANK

Fukushima Shinkin Bank

THE SETO SHINKIN BANK

The Fukusen Credit Cooperative

DaitokyoShinkumi Credit Cooperative

Mashita Shinyokumiai

TAIYO LIFE INSURANCE COMPANY

Matsuyama University

Takanabe Shinkin Bank

The Mishima Shinkin Bank

THE CHOSHI SHINKIN BANK

Sumitomo Mitsui Trust Asset Management


Co., Ltd.

The Tsuruga Shinkin Bank

JA-MIYAZAKI CHUOH Japan Agricultural


Cooperraticves
Reporting
We will publish impact reporting and allocation reporting on an annual basis on our corporate website.
Allocation Reporting
The Daito Group will publish allocation report on below contents until all net proceeds are allocated to eligible projects.
  
Summary of eligible projects
  
Total amount of eligible projects and percentage of allocation
  
Allocated amount and pending amount by category
  
Pending amount and expected allocation schedule, if any
  
Amount allocated to new projects vs refinance
  
Impact Reporting
The Daito Group will provide impact reporting on an annual basis while there is an outstanding amount. The reporting will be provided on an annual basis for following indicators on a best efforts basis.
  
Amount of renewable energy generated (MW/GWh)
  
Renewable energy generation capacity added (MW)
  
Amount of greenhouse gas emission reduced per year (tCO2e/year)
  
For our owners, tenants, shareholders, business partners, local communities, employees and other stakeholders, the Group will continue to engage in environmental management aimed at the realization of the carbon-free society the Group is aiming for.